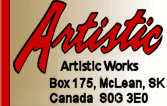 Crossover Steps

The picture on the right shows a "4 RISER CROSSOVER STEP". To price a railing for this step you should:
Follow steps 1, 2 and 3 from instructions for a conventional step. (previous page)
If you decided, from step 1, that the risers and treads are the proper size and the landing is 72" or less (A is Landing) then turn to page 5 of this ARTISTIC CATALOGUE and find the ORDER NO. of a railing for an ARTISTIC CROSSOVER STEP with the same number of risers. Look up the price of this railing. Landings up to 72" will all be the same price once you find the right number of risers. To price the picture, we would look up the price for a 4RC60-36.
TO ORDER the proper railing, phone or fax in all details of your crossover step. EG: "I need a 36 inch high railing for a 4 Riser Crossover Step, with 7 inch risers, 12 inch treads and a 60 1/4 inch landing".
ALWAYS COUNT ALL RISERS AND USE FULL LANDING MEASUREMENTS.
ARTISTIC HAS MADE ALL ALLOWANCES REQUIRED. CHECK BUILDING CODES
TO DETERMINE RAIL HEIGHT REQUIREMENTS.
BOLT IN DESIGNS MAY BE ADDED TO THESE RAILINGS
Click Here To See Designs
---
36 Inch High Railings - Priced Each
2 Riser Steps
3 Riser Steps
4 Riser Steps
5 Riser Steps
6 Riser Steps
2RC44-36
$280.50
3RC44-36
$336.60
4RC44-36
$426.80
5RC44-36
$479.60
6RC44-36
$554.40
2RC48-36
$280.50
3RC48-36
$336.60
4RC48-36
$426.80
5RC48-36
$479.60
6RC48-36
$554.40
2RC52-36
$280.50
3RC52-36
$336.60
4RC52-36
$426.80
5RC52-36
$479.60
6RC52-36
$554.40
2RC56-36
$280.50
3RC56-36
$336.60
4RC56-36
$426.80
5RC56-36
$479.60
6RC56-36
$554.40
2RC60-36
$280.50
3RC60-36
$336.60
4RC60-36
$426.80
5RC60-36
$479.60
6RC60-36
$554.40
2RC64-36
$280.50
3RC64-36
$336.60
4RC64-36
$426.80
5RC64-36
$479.60
6RC64-36
$554.40
2RC72-36
$280.50
3RC72-36
$336.60
4RC72-36
$426.80
5RC72-36
$479.60
6RC72-36
$554.40
Need Help? Click here for our help/order desk.
Freight & taxes extra.