"Artistic's Plan Ahead Products"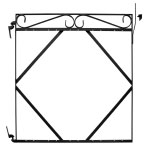 These GATE FRAMES are intended for the new fence builder who can leave a 42" opening for a gate when building a new fence. If you have already finished your fence you will have to adjust your gate opening to 42" between posts, to use this gate frame. These ornamental gate frames allows you to add pickets to the frame to match your fence. Then mount your gate 4 inches above the sidewalk, as shown below. The PGF442 will be 47" high (43 + 4), the PGF542 will be 59" high (55 + 4) and the PGF642 will be 71" high (67 +4). These gates swing both ways. The frames are primed black and you will have to paint them, using an enamel paint, after you install your gate. We recommend black, but you can use any colour.


---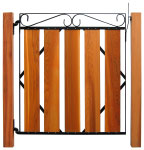 These frames are made with 1/4 X 1 flat iron and 1 X 1 angle iron, giving you a strong, beautiful gate that will last for years.
These frames come with hinges, latch and hardware (wood pickets not supplied).
The LATCH HANDLE may be bent to set the tension and allow for movement in the posts.
The PGF442 weights 28 lbs., the PGF542 weights 35 lbs. and the PGF642 weights 42 lbs.
REMEMBER THE OPENING MUST BE 42 INCHES BETWEEN THE POSTS.
Your gate will have a "Clear Side" the front, which means you must hang your gate as shown, with the hinges on the left post. The back side will show the cross-braces.